by
Brogan Joe Murphy
In 1889, at the age of twenty, Boston artist, William McGregor Paxton traveled to Paris to study at the Ecole des Beaux Arts with the great, French academician, Jean-Léon Gerome. When Paxton returned to Boston in 1893, he continued his studies with Joseph DeCamp, who helped the young painter marry the great draftsmanship and composition of the academics with the more accurate color notation of the impressionists. In 1900, Paxton's first one man show opened in Boston to critical acclaim. By 1906, while Picasso was finishing up the head of Gertrude Stein, Paxton was painting the portrait of Grover Cleveland. His work was in such demand, he declined to paint the portrait of the sitting president, Theodore Roosevelt, explaining that he was "too busy." In 1910, his painting, Tea Leaves was accepted into the permanent collection of the Metropolitan Museum of Art.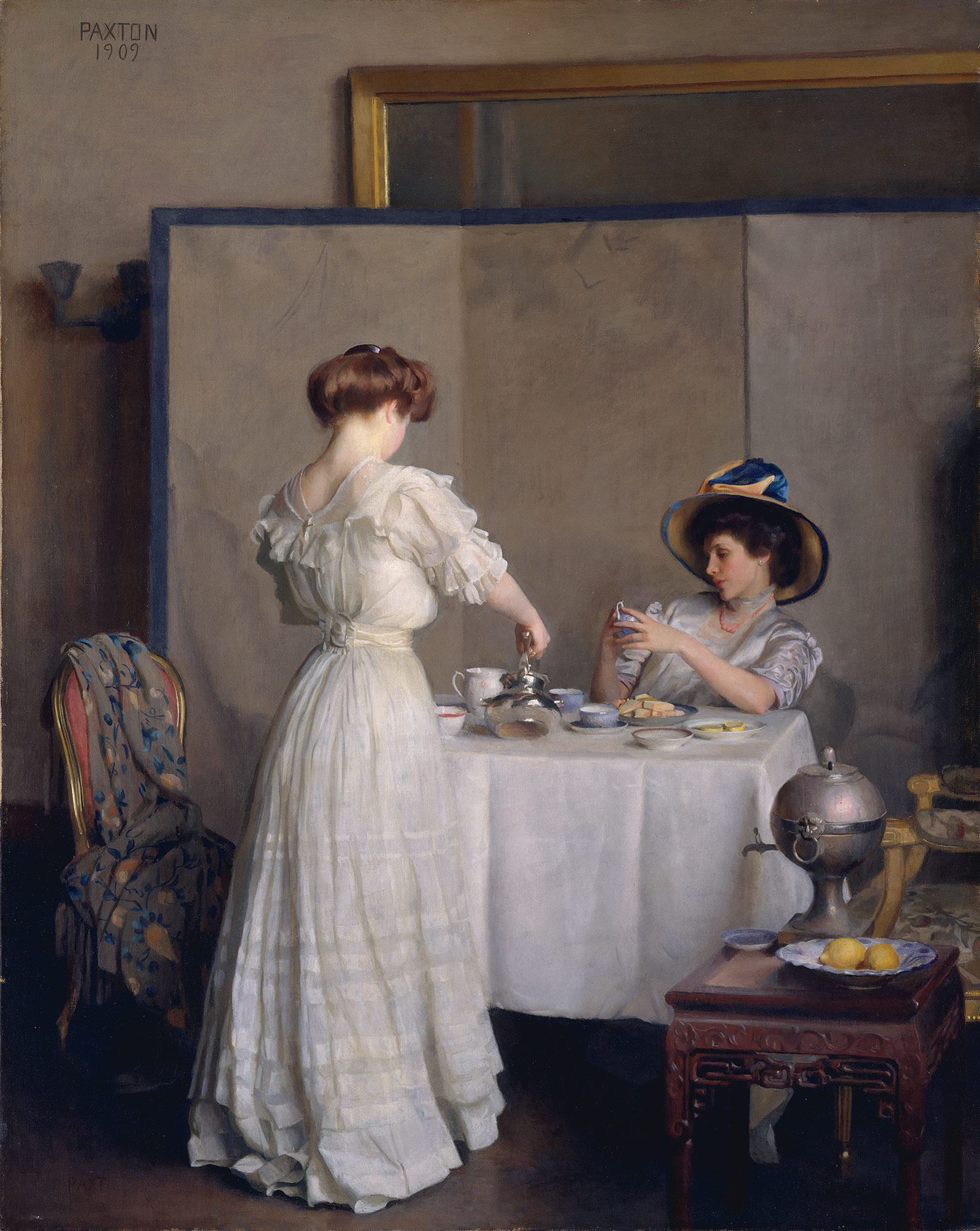 Tea Leaves, oil on canvas
William Paxton carried the principles of nineteenth century impressionism to their logical conclusion. Perhaps best described by one of his students, R. H. Ives Gammell in his essay on Impressionism:
"Historically, ( Paxton's) pictures will be seen as the ultimate and most uncompromising expression of the concept of painting which was reanimated in France during the last third of the nineteenth century... Given its most complete expression in the art of Velasquez, who is still its greatest exemplar, ( Impressionism's ) aim has ever been to convey on canvas the impression made on the painter by the subject he elects to depict. To the Impressionist, the splendor of the visible world as it appears to his sensitized vision surpasses in esthetic significance and beauty anything that man can invent."
Paxton's remarkable visual acuity and command of technical skills allowed him to render his subjects with astounding accuracy. He brought the color perception perfected through plein air painting into the studio. His interiors like The Figurine, 1921( Smithsonian National Collection of Fine Art ), capture the lucidity of ambient light with masterful compositions reminiscent of Vermeer.
                                                                                                         The Figurine, oil on canvas
Throughout his career, Paxton was asked to preside on juries for the most prominent Art exhibitions in America. But as the new elite took over, Paxton and artists of his caliber became an anachronism. He and other eminent Boston painters were forced to resign from  Boston's School of the Museum of Fine Arts and were replaced with modernists. By the time Paxton died in 1941, despite a career marked by accomplishments few artists have attained, he was consigned to the ash heap of historical neglect by the modern art establishment.
Unbeknownst to those that have decreed modern art as the only legitimate artistic expression for the twentieth and twenty-first centuries, the classical tradition has been proceeding apace, quietly and workman-like throughout the world. Far from a renaissance, these artists have continued a conservative tradition passed on from master to student for centuries.
This past February, I was honored to be invited into the home and studio of one of America's living masters. Tucked away in the bucolic foothills of New Hampshire, Richard Whitney plies his trade, creating works of art that in any other century would hang in museums alongside the masterworks of history.
Born in 1946, Richard Whitney studied Art at the University of New Hampshire( UNH ).  In the summer of his freshman year he began studying classical painting with Sidney F. Willis, who urged him to read Twilight of Painting, by R. H. Ives Gammell, an eminent Boston painter, and student of William McGregor Paxton.  The book's profound impact inspired Whitney to write to Gammell and ask about furthering his study of classical painting.  After a visit to Gammell's studio in Williamstown, Massachusetts, Whitney was accepted as his student.   Returning to UNH he was warned that studying with Gammell would "ruin his life." Describing himself as "a token realist in a room full of abstract expressionists," Whitney was eventually allowed to pursue his chosen path, and was "left alone to do cast drawings, cast paintings, portraits, still lifes and landscapes."  While attending UNH, Whitney continued his study with Gammell on weekends and summer vacations. After graduating Phi Beta Kappa from UNH in 1968, Whitney kept on studying with Gammell, culminating five years of work with his master.  It is not difficult to see Paxton and Gammell's legacy in Whitney's work; one finds the same command of draftsmanship, composition, and color notation.
In his portrait, Marion, Whitney's deft use of chiaroscuro contrasts the rhythm of line in the hair and figure with the light and dark verticals of the gilt screen. Our eyes do not wander in the presence of this portrait. The artist's masterful distribution of shapes and values commands our focus on the beauty and elegance of his subject.
Whitney's Edges of April Sky is as complex a composition as any symphony. He captures the movement of sunlight over a New Hampshire, spring city-landscape. Whitney renders the panoply of color and form with startling precision. This is not the flash of a photograph; this is an impressionist masterpiece. Over many weeks of plein air painting, Whitney captures a visceral connection to nature no other art form could convey, selecting and manipulating the design, rendering the myriad translucent hues and opaque textures of the landscape.

           Edges of April Sky, oil on canvas
Whitney treated me to a tour of an intimate gallery adjacent to his studio. He shares the space with his wife, Sandy Sherman. A former student of her husband, Ms. Sherman is an accomplished painter in her own right. Richard's taciturn New Hampshire demeanor proffered few comments on his own work. Yet perhaps as he knew I was painter myself, he let the work speak for itself; it spoke volumes. Amid luminous landscapes and facile still lifes, the exquisite portraits of his wife and daughters left a lasting impression.
Yet more than any other painting, Whitney's portrait of his father, Dad, took my breath away. Perhaps due to his use of impasto, I was reminded of standing before a Rembrandt self-portrait. But before the Rembrandt I experienced the power of the artist's presence. Here, I felt the love of a son for a father, and a father for a son. I felt the presence of my own father, of my love for him, and his for me. This masterpiece needed no words, no imprimatur to explain its importance.
Widely regarded as one of America's great portrait painters, Richard Whitney has been commissioned to paint the official portraits of Governors John Sununu and Mitt Romney, of Cabinet Secretaries, Senators and CEO's. Despite the disdain often shown representational painters by the cultural elite, they seldom turn to one of their own to paint their portraits. Not withstanding Picasso's advice to Gertrude Stein, most want to resemble their portraits. Whitney will never lack for patronage for his portraiture. But I cannot help but wonder what great works he might choose to produce had he a fraction of the exorbitant patronage wasted on the poseurs of the cultural elite.